FAMILY FUNDRAISERS
Families across the U.S. are using creative ways to build awareness of cardiomyopathy and raise funds for pediatric research. Below are some examples of different events organized by CCF members.
Casen's Crew
Casey and Heather Riley lost their son, Casen, to hypertrophic cardiomyopathy when he was six months old. To celebrate his life, friends and family came together to form
Casen's Crew
, an annual sporting event which has included a 3 on 3 basketball tournament, a 5K fun run/walk, and golf tournament. In its 8th year, Casen's Crew has grown to include more than 200 participants from their Texas community. The annual event has raised more than $60,000 to support CCF's programs and assist local families affected by cardiomyopathy.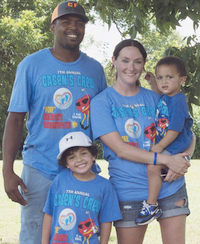 The Marschall's Bake for a Cure
The Marschalls started their annual bake sales in their Wisconsin driveway with their neighbors. When they relocated to Virginia, they sold their delicious treats again in honor of Annabelle, age 8, who was diagnosed with dilated cardiomyopathy as an infant. For the past four years, the Marschalls have involved their community and included friends out of state to raise $4,500 for CCF through their bake sales.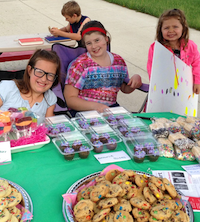 Bell Family Lemonade Stand
When Garland Bell was diagnosed with hypertrophic cardiomyopathy, she and her brother were eager to increase awareness of the disease. During the summer, Garland and Ford set up a CCF lemonade stand in their neighborhood to sell homemade lemonade and cookies. Wearing CCF t-shirts and handing out pamphlets, Garland and Ford raised more than $1,500. One customer was so moved by Garland's story that she returned with a check for $1,000 to support their efforts. The heart-warming story became front-page news in the
Greensboro News & Record
.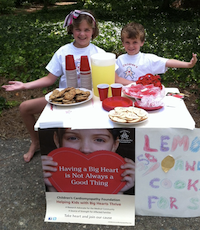 Cinca Family Shopping Extravaganza
The Cinca family organized a Shopping Extravaganza in Boca Raton, Fla. with 26 retail vendors, such as 31 Gifts, Avon and Jockey, for a fabulous day of shopping, auctions, and food. The event was planned in honor of Cristina who was diagnosed at 7 years old with hypertrophic cardiomyopathy and later had a heart transplant. The highlight of the day was when Cristina and her brother, along with her friends, entertained guests with a magic show. The extravaganza was attended by 150 and raised more than $12,000 for CCF.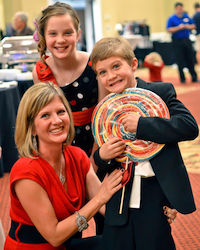 Knoblock Family Big Heart Bake Sale
Hot chocolate and happy smiles warmed up the chilly day of the Knoblock's Big Heart Bake Sale in Iowa. During National Heart Month in February, the Knoblock family held a bake event near their town's community center to honor her son Kendon who was diagnosed with restrictive cardiomyopathy. Even in the frigid cold, their baked goodies quickly sold out and they raised $500 for CCF.