— September 2021 —
Awareness Walk
It's time to reconnect for CCF's 7th Annual Walk for a Cure. After a challenging year, we can now safely come together to raise awareness of cardiomyopathy. Join Team CCF during Children's Cardiomyopathy Awareness Month and walk in support of children with cardiomyopathy and their families.
Ways to Participate
This year, you have the option of organizing an in-person community walk or planning a virtual walk that allows you to participate whenever it is most convenient for you and your team. Families have walked at beaches, parks, around the neighborhood, and even on the treadmill at home.
Walk Registration
It's easy to sign up and get involved. Register Today
Adults: $20 for adults
Children (age 12 and under): $10
Every registered walker receives a walk t-shirt (adult size S, M, L, XL) and the option to set up a personal fundraising page.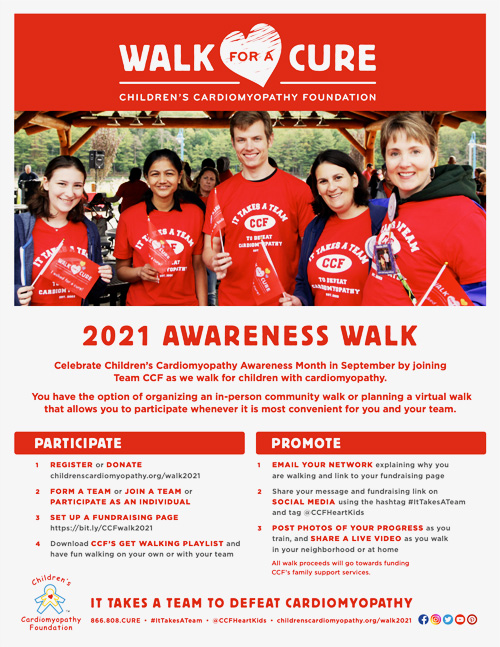 Walk Flyer
Grow Your Team
Invite your family, friends, neighbors, and colleagues to support your walk efforts. All proceeds will go towards funding CCF's family support services.
Email your network and link to your CCF fundraising page
Share your message on social media using the hashtag #ItTakesATeam and tag @CCFHeartKids
Post photos of your progress as you train, and share a live video when you walk